Should We Be Concerned?                                                  
Global Warming and Pollution
As the world becomes evolved we see different animals going extinct. Recently studies have shown extinction of monarchs.  Pollution can be very harmful to many animals or insects. When we use weed resistant products or different herbicides these specifics things ruin the monarch habitat. These products specifically ruin milkweed plants and milkweed plants are the only plants monarch caterpillars feed on. It is very important for any insects or animals to maintain a healthy but consistent habitat.
We can also see global warming affecting the extinction of monarchs. In the past two years, we saw spring above normal temperature. Which allowed monarchs to migrate earlier to stay with the colder weather. We also see that the change of the use of land can affect things too. As stated before it is healthy to maintain a consistent habitat for the monarchs. Increasing carbon dioxide levels caused milkweed to become too toxic to monarch butterfly larvae.
Genetically Engineered Corps
Research also shows that the monarch decline is also linked to genetically engineered corps. The corps are made to withstand specific herbicides.  These herbicides like stated before kill milkweed plants which are the only source of food for monarch caterpillars. Unfortunately, the herbicide is so harmful to these plants that it was seen the milkweed plant had completely disappeared in the Midwest.  
How Vast is the Impact?
According to a study done by the U.S. Fish and Wildlife services in 2012, from 1990 to 2012 over a billion monarch butterflies have died off. In 1996, monarch butterflies covered over 45 acres of land while migrating, now they cover a mere 1.7 acres in 2012. This is an important reminder that our actions do have an impact, and that we should be mindful of the usage of chemicals.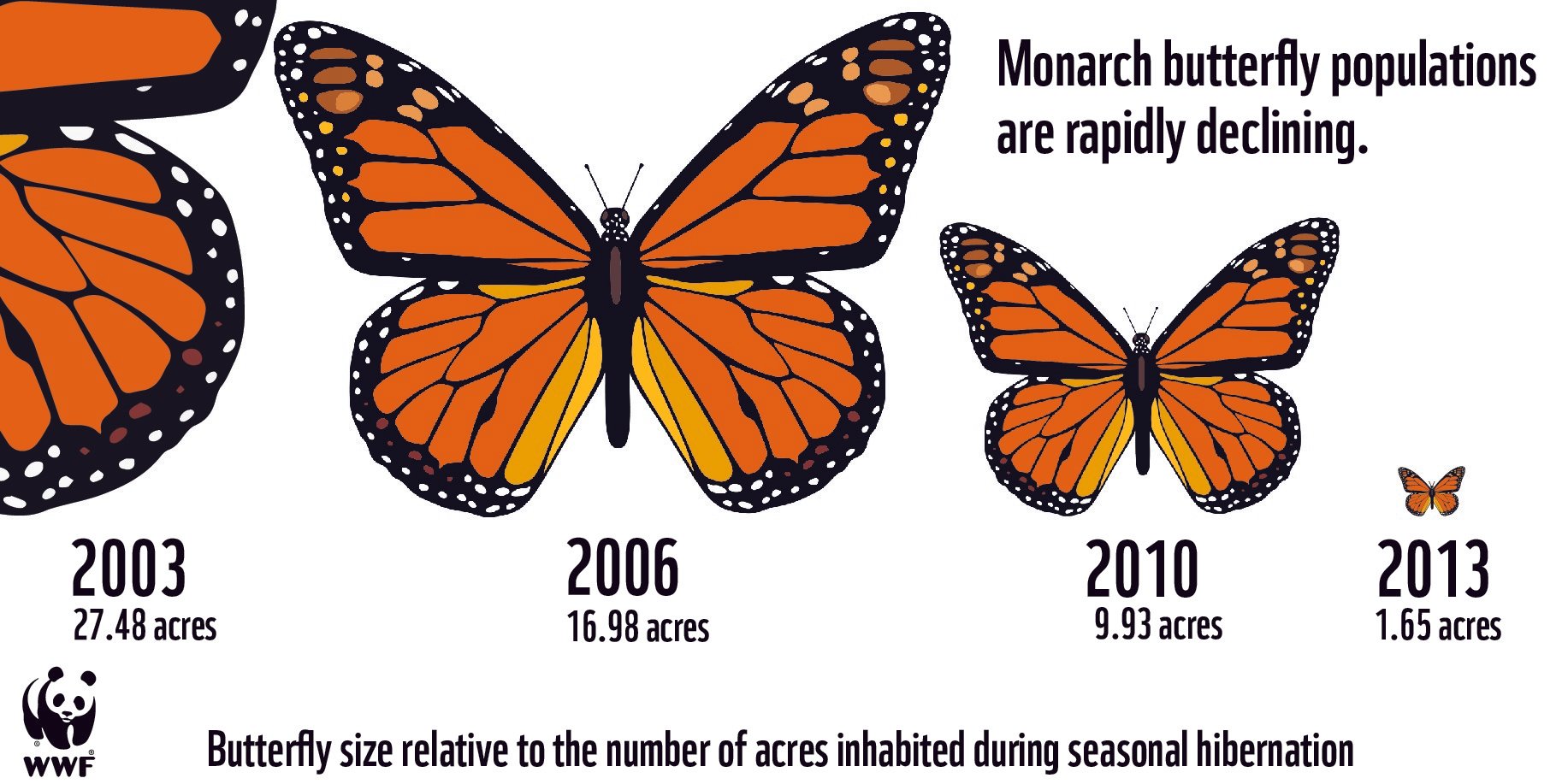 To read more about this subject, please visit the following links:
Biological Diversity: Monarch Butterfly